Alpine ski area opening
from Saturday 23/12/23 to Sunday 31/03/24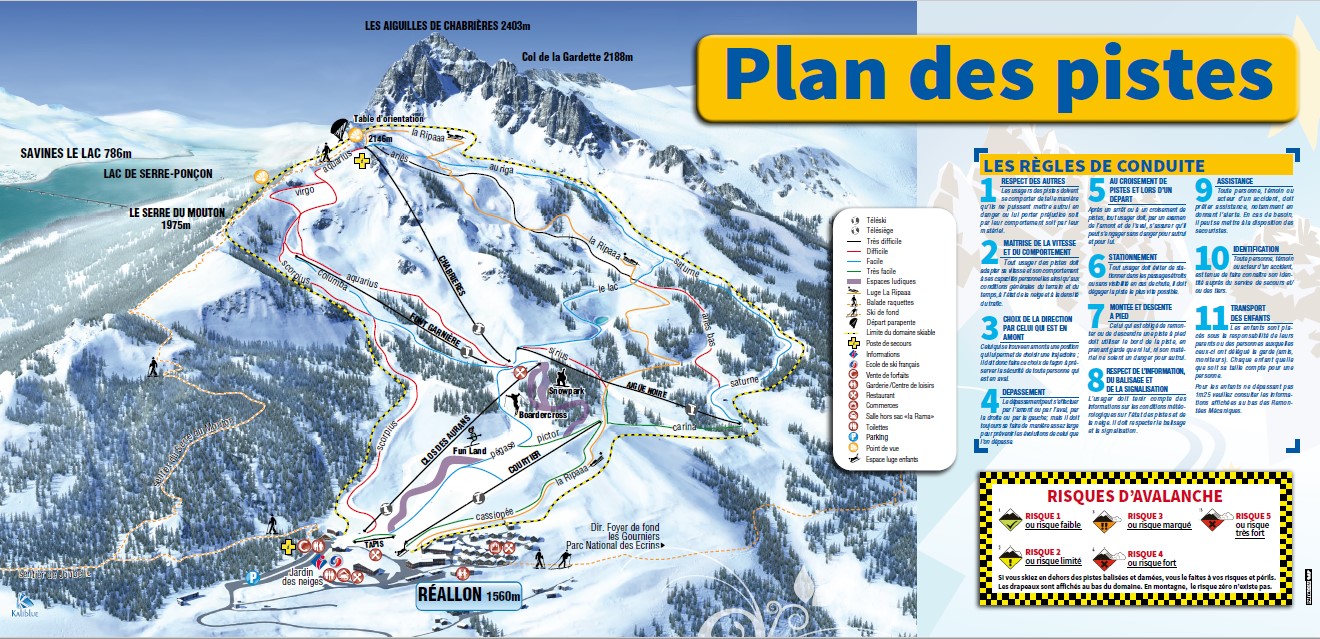 Lift fares
Winter 2023/2024
PACKAGES
Adult
Children

(under 12) and


and Seniors

(over 65)

classic" package
1 day

27,50 €
26.00 € online

24,50 €
23.00 € online


weekend package
2 consecutive days

53,50 €
51.00 € online
46,00 €
44.00 € online

Relaxation" PACKAGE
3 consecutive or non-consecutive days

78,00 €
74.00 € online

67,0

0 €
63.50 € online

Week PACKAGE
6 consecutive days

136,00 €
129.00 € online
121,00 €
115.00 € online

Discovery" PACKAGE
2 consecutive hours

20,00 €
19.00 € online
17,50 €
16.50 € online

Freedom" package
4 consecutive hours

24,50 €
23.50 € online
21,50 €
20.50 € online

ZEN" PACKAGE
5 non-consecutive hours

43,00 €

37,00 €

Friday RTT" PACKAGE
( only outside school vacations all zones )
1 day

23,00 €

23,00 €

Ski School Course" PACKAGE
10 hours

84,00 €

73,00 €

Ski School Course" PACKAGE
12 hours

99,00 €

87,00 €

Classic Season" PACKAGE
1 Season

279,00 €
279.00 € online
219,00 €
219.00 € online

Bacchus" PACKAGE
Round trip Clos des Aurans chairlift

9,00 €

9,00 €

Panorama" PACKAGE
Return trip on 2 chairlifts

12,00 €

12,00 €


INSURANCE
Covers runway rescue and transport to hospital by any means (ambulance, chopper, etc.)

1/2 day: €2

1 day: €3

6 to 14 days: €18

Individual season: €50

Family season: €110

1/2 day: €2

1 day: €3

6 to 14 days: €18

Individual season: €50

Family season: €110
A "Hands-Free" holder is required for all package purchases. It costs €2.
See GENERAL TERMS AND CONDITIONS OF SALE AND USE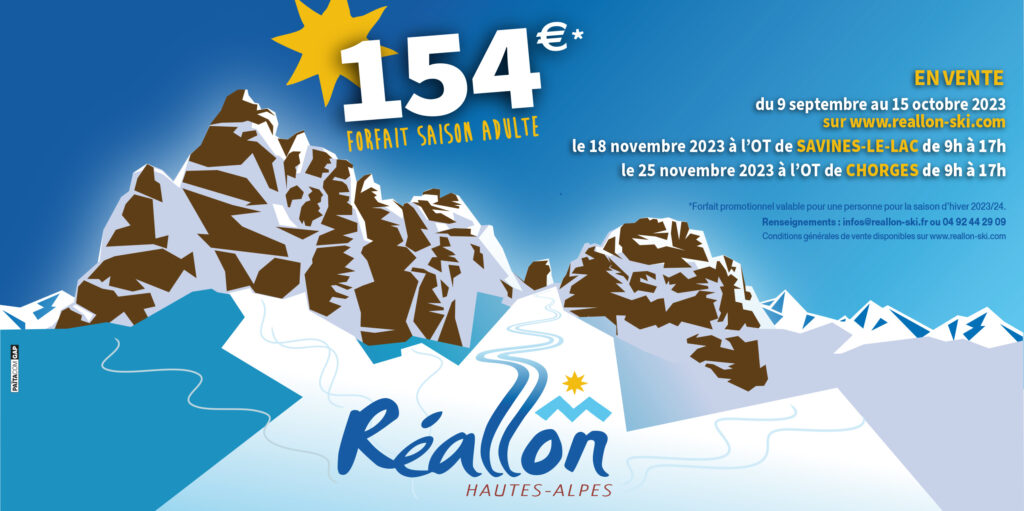 The dates are now open, so don't miss out on the sales of Réallon's "primeur" ski passes. 154€ for the whole winter season: that's the unbeatable price offered by the resort. This promotional offer is exceptional, because by taking this primeur season pass you save almost 50% on a classic 279€ season pass, taken outside these dates. If you ski 6 days with the "Classique" 1-day pass, by the end of the 6th day you'll have already paid off your "primeur" season pass. Don't miss these dates!
From 09/09/23 to 15/10/23: online
Saturday 18/11/23 at the Tourist Information Office in Savines-le-Lac from 09h to 17h

Saturday 25/11/23 at the Tourist Information Office in Chorges from 09h to 17h

This offer is open to all, locals and tourists alike, and requires no proof of identity other than a photo, as the packages are nominative. There is no limit to the number of season packages available at the primeur price.
Season pass for children (-5 years) and seniors (+75 years): only for "Season", "Liberté 4hours consecutive", "Day" and "Pedestrian" passes, on presentation of proof of identity.
proof of identity. For children under 5, the age taken into account is their age on March 31st of the season in question. For over-75s, the age taken into account is their age on December 15 of the season in question.
SCHOOL PACKAGES / By post before Friday 08 December 2023 to the following address: Régie des Remontées Mécaniques - 2098 Charrière des Gourniers, La Place - 05160 Réallon
They can also be issued on December 23 and 24, 2023 at the Réallon ski lift ticket offices.
Complete file containing :
- old pass or 2€ in addition to your payment for the card
- recent photo
- certificate of school attendance or equivalent (liaison booklet, canteen invoice, etc. with current year, class and child's name)
- payment by cheque made payable to Trésor Public or by chèques vacances. (If you wish to pay by credit card for insurance purposes, please specify this and we will contact you by telephone to arrange payment).
School season package prices:
- Nursery/primary (from age 5, including birthdays during the winter season): 69€.
- Junior high: €114
- High school: €129
Student season passes: 144€, issued throughout the season on presentation of a current-year student card.
Lycée, Collège and Maternelle/Primaire school season passes are issued until December 24, 2023 on presentation of a current-year school certificate. Student Season Passes are issued throughout the season on presentation of a current-year student card.
These passes are printed with a passport photo.
The resort offers free access for disabled people (80% disabled): for the disabled person and one companion, for pedestrian chairlift passes, day, week, season, on presentation of a disability card stating "need for accompaniment". Free for a second companion for adapted skiing.
A reduced rate will be granted to people with a student card or a large family card. For further information, please contact us on 04 92 43 23 71.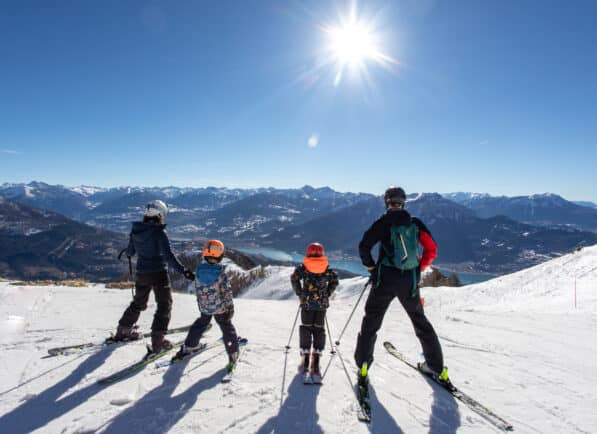 Family skiing for all
Facing east, the alpine ski area guarantees plenty of sunshine. It is reinforced by an extensive snowmaking network (from the summit to the snow front).
Located between 1560 and 2146 meters above sea level, the Réallon ski area represents:
30 kilometers of ski runs
6 lifts (including the 2 chairlifts at Clos des Aurans and Chabrières).
A total of 16 trails wind between steep slopes, more undulating passages and flats ideal for learning to ski.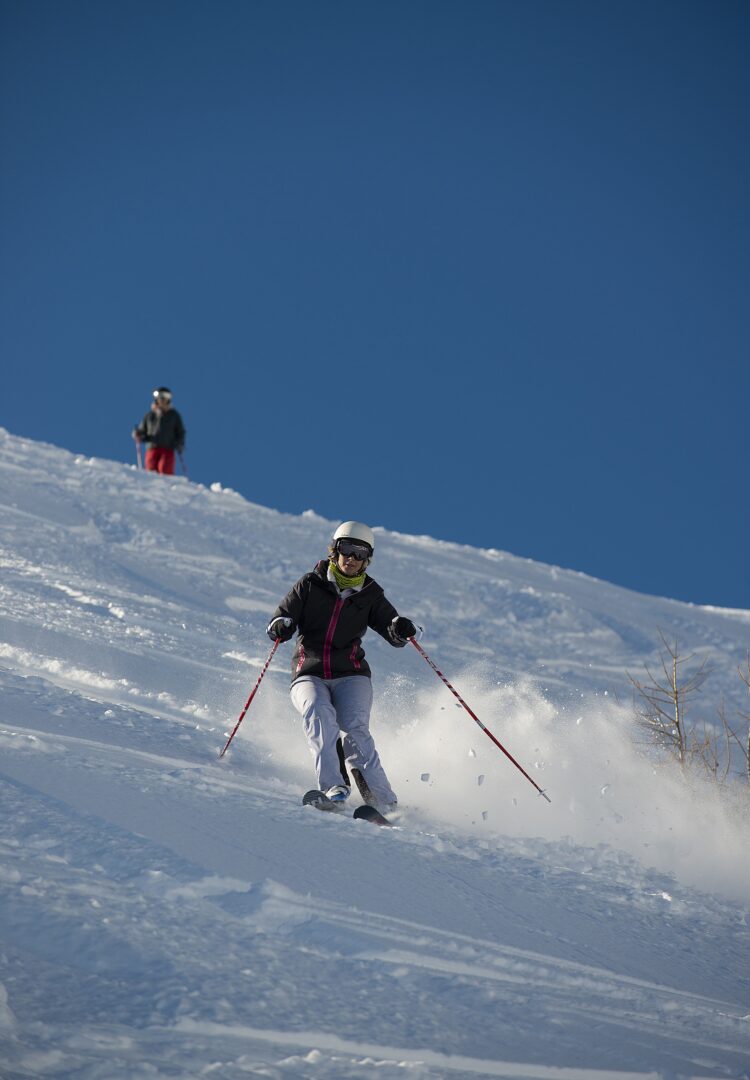 Experienced skiers will prefer the single black run "La Noire d'Ariès" and the 6 red runs "Aquarius", "Scorpius Haut", "Scorpius Bas", "Virgo", "Sirius" and "Ariès bas" to link hard turns and carefully carved curves, while intermediate skiers will learn their skills on the 5 blue runs, where they can work again and again on their stance, support and linking of turns. For their part, beginner skiers and snowboarders will confine themselves (initially) to the 4 green runs, ideally laid out and marked out to allow initiation to skiing in excellent conditions.
Finally, for the little ones, the ski carpet is the ideal equipment for discovering the joys of skiing in complete safety, free of charge.
Three free-access play areas for freestyle enthusiasts of all kinds.
A Snowpark and a Boardercross for more experienced skiers, and a Fun Land area for learning your first jumps.